To us, your image starts with ours. PSI Security Service has proudly provided Security Guard Service to the Metro Atlanta business community for over 25 years. PSI Security Service will relentlessly strive to tailor the perfect Security Guard & Security Patrol Service program to fulfill your company's specific need.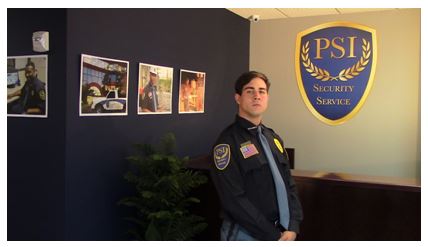 Any day on your local TV News station you will see a report of a burglary or other crime that was captured on security video. Take notice that these videos are often too dark, blurry and grainy to actually obtain any clear identification of the subjects involved. What the victims are then left with is a bad video of their property disappearing.
What you don't see is a news report involving a property/business owner who has the insight to have a real person, a real deterrent, a real professional Security Officer patrolling their premises.
Through the years Security Officers have been known by many names Watchman, Night Watchman, Security Guard, Security Officer, Private Police, Patrolman, Property Protection Officer to name a few. No matter which title you give our PSI Security Guards, one thing you will definitely call them is an EFFECTIVE DETERRENT, thus no blurry videos on your daily news.
Thieves, Vandals and most all other criminals are looking for one primary condition when committing a crime. The easiest target that exhibits the least amount of risk of being apprehended.
So simply ask yourself, would you enter a property with a Security Officer actively patrolling or would you just go to the next property, put on a mask and wave at the cameras?
Contact us today for a Free Quote!
Return from Unarmed Uniformed Security Guard to Our Services